Life the Game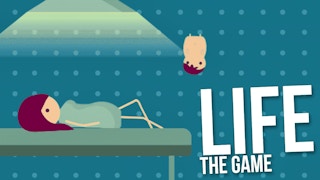 Life the Game
The meaning of life has long been pondered but there's not enough time to spend on contemplating it and Life The Game may have a simple answer. The game is a collection of games in a streamlined depiction of many of the major periods and events in a person's life. Even if you've had a perfect life, you've likely experienced one of the games that this game has you play. How you came out of it doesn't affect how this person will deal with it since you have a hand in helping them deal with things in a more efficient way. Perhaps that may be the secret to a good life.
About Life The Game
Life is full and complex but this game has distilled it down to moments that we all have heard of and seen depicted in numerous ways. It's interesting to think how life would change if there was an external force giving input to certain events. The humor in it is that life is never as easy as it seems no matter what phase of your life that you're in. All you can do is do your best and you want to make sure that you do your best for the person living this game life.
How to Play
Life The Game is a fast-fire collection of mini-games that goes through an understandable progression. Even so, you can play each one with just the mouse. In a vein similar to games like Dumb Ways To Die, each mini-game is preceded by the name, and then the objective flashes clearly at the top of the screen. You'll also have a time limit to finish the game or you'll need to do it again. The goal is to help the person live a full life.

The mini-games are all played with the mouse using its various functions. They can range from simply clicking on the right objects to clicking and dragging objects to the right places. There are also timed games where you need to click at the right time in order to make progress.

Tips and Tricks
This is a simple and fast-paced game where there aren't any setbacks to failing. This means that you can take your time with each mini-game until you figure out the best way to beat it. However, there are some mini-games that require you to be pretty precise in order to count as complete so make your movements quickly but carefully.
Game Details
Developer: Ohmaigawd
Platforms: Web Browser (PC and mobile)
Languages: English

Gameplay Footage
FAQs
Is this game related to the Game of Life?
While it's easy to make this mistake, Life The Game is its own game that's only played online. By contrast, the Game of Life is a well-known board game that also has some video game adaptations on PC and other gaming platforms.
Games similar to Life The Game
With the concepts and gameplay in this title, you can find it in the Clicker and Fantasy Flight Games categories on GamePix. You can also find in those sections Idle Arks: Sail And Build, Car Crusher, Knight Treasure, and Duelers.
What are the best online games?