Letter Boom Blast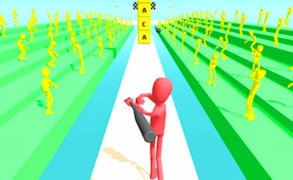 Letter Boom Blast
Welcome to the thrilling world of Letter Boom Blast, a unique blend of ball games, baseball games, and even stickman games. But wait, there's more! This inventive title mixes in elements of word games too. Ready for a fast-paced arcade ride that's going to test both your reaction time and vocabulary?
At first glance, Letter Boom Blast might feel like just another baseball arcade game featuring our beloved red stickman. However, it quickly transforms into a letter puzzle game that will twist your mind and challenge your quick thinking skills. Your objective? Help your stickman baseball player run to the finish area by blasting all those pesky incorrect letters out from the obstacles. While this might sound easy, these obstacles are actually word cube walls on a platform track - a delightful twist on the traditional concept of ball games.
Letter Boom Blast offers a dynamic experience that keeps you on your toes with its ever-increasing difficulty levels. Each level has its own time limit, pushing you to quickly find and blast those wrong letters away. It's not just about who can hit the hardest; it's about who can think the fastest!
In terms of graphics and controls, this stickman baseball game is clean and intuitive, ensuring smooth gameplay that doesn't distract from the task at hand. The vibrant color palette contrasts nicely with the minimalist design, providing an immersive experience.
To sum up, Letter Boom Blast masterfully combines elements from various genres into one compact package that delivers stellar entertainment value for all types of gamers - from lovers of traditional ball games and baseball games to fans of stickman games and word games. This arcade game not only entertains but also stimulates your brain in unconventional ways. So why wait? Step up to the plate, take aim at those lettered cubes, and let Letter Boom Blast take you on one heck of an exhilarating ride!
What are the best online games?