Let's Play Golf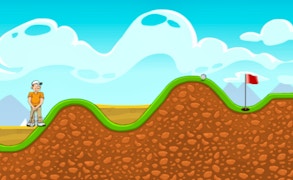 Let's Play Golf
Step onto the lush, virtual greens with Let's Play Golf, an enthralling entry in the sports genre. This captivating addition to Golf games and Ball games challenges you to tee off in an immersive world infusing the elegance of golf with digital gaming's exhilarating excitement.
In Let's Play Golf, the mission is clear; use fewer hits to score balls in all the holes. The game's intriguing mechanics ensure that your skills are tested at every turn. The lurking hazards of water and sand traps invite you to play strategically, making each round a mental exercise as much as a test of precision.
The game really shines in its ability to create an authentic golfing experience. From the moment you select your club and gauge your aim, to hearing the satisfying 'thwack' as club meets ball, Let's Play Golf perfectly encapsulates the thrill of playing golf on a sunny afternoon.
Fans of ball games will appreciate the attention to detail. Whether it's the realistic ball physics or how every swing of the club feels different depending on your position, Let's Play Golf displays an intricate understanding of what makes these games enjoyable.
To sum it up, Let's Play Golf doesn't just take you through a round of virtual golf – it offers a fun yet sophisticated gaming experience that both delights and challenges players. Whether you're an old-hand at Golf games, or new to this sporty subset of ball games, Let's Play Golf promises not only hours of entertaining gameplay but also a remarkable fidelity to what makes golf such a beloved sport.
In conclusion, if you've been searching for a true-to-life golf simulator that also doubles up as an engaging game, look no further than Let's Play Golf – where every hit matters!
What are the best online games?
TAGS