Ladybug Valentine Paris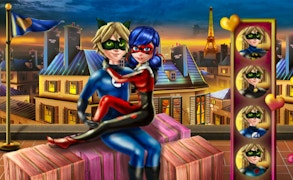 Ladybug Valentine Paris
Hot off the digital press and straight from the city of love, arrives a heartwarming new game known as Ladybug Valentine Paris. This charming creation seamlessly blends aspects of games for girls, hidden object games, fashion games, and dress up games, all into one enchanting package.
At its core, Ladybug Valentine Paris is about our lovely protagonist, Ladybug, displaying her affection towards her best pals on the most romantic day of the year - Valentine's Day. The mission? To earn as many bills as one can and then dash to the gift shop in a cab to buy gifts for friends. The entire game is steeped in rich narratives, making you part of Ladybug's lively universe.
The element of surprise in this game is incredibly addictive; you'd never know which items you'd stumble upon next. It's like finding hidden gems in your grandmother's closet! From classy cameras to chic watches and elegant necklaces - you have a versatile array of presents to choose from.
The dynamic aspect of this game lies in its economy. If you find yourself short on cash, don't worry! Simply head home, do some work and fill up your wallet again. This adds an unexpected layer of realism and financial management to this delightful gaming experience - it's not just all glitz and glam.
What sets Ladybug Valentine Paris apart from other typical fashion games or dress up games is its charming blend of friendship, hard work, economy management, and fashion. Making the right choices for gifts becomes more than just a gameplay strategy – it's an exercise in empathy and thoughtfulness.
For those passionate about games for girls, Ladybug Valentine Paris will certainly captivate your senses. Its delightful blend of storytelling matched with just the right amount of challenge makes it a must-have experience this gaming season!
What are the best online games?