Ladybug Leg Surgery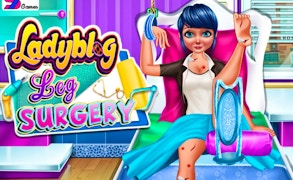 Ladybug Leg Surgery
Welcome to the magical world of Ladybug Leg Surgery, a delightful addition to the burgeoning segment of kids' operation games, specifically designed with a keen eye on the preferences of our young female audience.
This game is a must-try for all those who are fans of games for girls. Not only does it teach young minds the importance of healthcare and recovery, but it also provides a unique bonding experience as they help their favorite character back on her feet. Ladybug, the Dotted Girl, unfortunately, meets with an accident and needs immediate medical attention. Play the role of her trusted ally, and guide her on her journey towards healing.
Ladybug Leg Surgery is not your regular operation game - it's embellished with an intriguing storyline and engaging gameplay that keeps players gripped till the end. It serves as a great platform to introduce kids to basic medical procedures in an interactive way. The surgery part is tastefully done; it's not overly graphic but accurately demonstrates the process in a simplified version suitable for children.
The visual palette of this game is vibrant yet soothing, capturing every tiny detail within its virtual universe. And don't be fooled by its simplistic interface! Underneath this lies an immersive audio-visual experience that does wonders in keeping players engaged.
Ladybug Leg Surgery walks the fine line between education and entertainment immaculately. While enjoying their time navigating through various stages of Ladybug's recovery, children unknowingly imbibe critical values such as empathy and responsibility.
This combination of fun gameplay, meaningful lessons along side nurturing creativity makes Ladybug Leg Surgery one of those rare games that parents would love for their kids to play. So if you are seeking out games for girls - or operation games designed with kids in mind – then look no further than Ladybug Leg Surgery.
What are the best online games?