Ladybug Baby Shower Care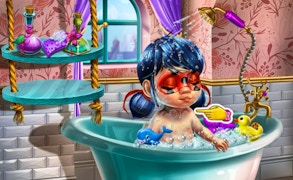 Ladybug Baby Shower Care
Prepare to dive into the colorful and adorable world of Ladybug Baby Shower Care, a fun-filled extravaganza that perfectly fits into the categories of Games for Girls, Baby Games, and Dress-Up Games. This captivating game is also the latest gem in Hairdresser Games that keeps chunks of enjoyment packed within its versatile gameplay.
Who could resist the allure of Baby Ladybug, our beloved baby superhero? Your main task is to take care of this cutest character, creating an immersive experience that subtly teaches responsibility and nurturing skills to young gamers. The game fashionably incorporates elements of baby care ranging from joyful shower times to routine diaper changes, enhancing its position as an engaging option in the realm of Baby Games.
In Ladybug Baby Shower Care, a simple shower is transformed into a fun activity. The game cleverly uses toys to keep Baby Ladybug happy during her bath, adding extra layers of engagement. The subsequent challenge, ensuring she does not catch a cold by using a hairdryer, further emphasizes the innovative streak in this unique blend amongst other Hairdresser Games.
But what grabs your attention most are available options for dressing our little superhero. Amongst all others in the genre of Games for Girls, this feature stands out prominently. Players can mix and match tops and bottoms with delightful shoes, giving Baby Ladybug different adorable looks. Such amusement crowns Ladybug Baby Shower Care as one of the best-standing examples inside the plentiful world of Dress-Up Games.
In essence, this game skillfully combines different elements from diverse genres into a single bundle while maintaining its own unique charm. Its UI is simple yet vibrant, designed carefully to appeal younger minds' aesthetics. So get ready for an unforgettable gaming experience with Ladybug Baby Shower Care, where learning meets fun in an adorable package!
What are the best online games?