Ladybug And Elsa Xmas Selfie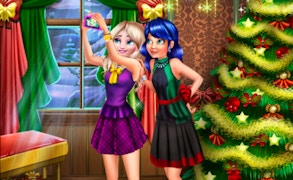 Ladybug And Elsa Xmas Selfie
Get ready to be wrapped up in a delightful Christmas treat as we delve into the magical world of "Ladybug And Elsa Xmas Selfie". This is one of the top-rated Christmas games on the market specifically designed for Games for Girls, bound to entertain and inspire creativity in young minds.
This charming game, perfect for the festive season, allows you to dress up and style two of your favorite characters, Ladybug and Elsa. From an array of sparkly dresses to endearing holiday-themed tops and bottoms, it's a fabulous addition to the beloved genre of Dress Up Games. You'll spend hours sifting through various fashion combinations attempting to create the perfect look.
But that's not all! "Ladybug And Elsa Xmas Selfie" also brilliantly incorporates elements from Hairdresser Games. Get experimental with endless hairstyles ranging from iconic braids to fun buns. Whether your style leans more towards a classy do or an extravagant Christmas-inspired outfit, this game has something for everyone. This feature adds another layer of enjoyment and immersion into the whimsical world these characters inhabit.
The final perk? Once you've nailed down your preferred outfits and hairstyles, you can capture the moment forever with a cheeky Christmas selfie! It's not just a game; it's an experience that offers players the chance to interact, play stylist, and create holiday memories with their favorite characters.
The charm of "Ladybug And Elsa Xmas Selfie" lies in its wonderful blend of festive fun, stylish outfits, imaginative hairstyles and that precious final selfie. So this Christmas season let your creativity shine with Ladybug and Elsa as they celebrate in style!
What are the best online games?