Lady Mommy Goes Shopping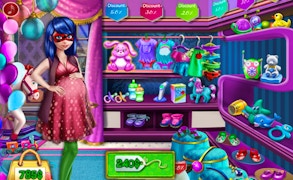 Lady Mommy Goes Shopping
Immerse yourself in the magical world of Lady Mommy Goes Shopping, one of this year's most delightful fashion games. This unique game is specifically tailored to cater to the interests of our gaming princesses, marking it as a top-notch choice among the vast ocean of Games for Girls.
The premise of this enchanting game revolves around a soon-to-be mother navigating her way through the exciting journey of pregnancy. However, it's not just any pregnancy - you're partaking in a thrilling adventure to prepare for your upcoming bundle of joy!
The Lady Mommy has a challenging mission - to go shopping for her tiny tot, making what gamers have tagged as one of the funniest dress up games. But here's the twist- to go shopping, you need to earn money by working! Yes, you heard it right; think of it as Monopoly meets Barbie - an amalgamation of money games and fashion all rolled into one!
If budgeting gets tough and you can't buy everything you wanted – worry not. The game gives players the opportunity to work more and earn extra cash, adding an exciting layer seldom found in other baby games.
To turn up the challenge even further, try buying everything from the store - transforming Lady Mommy's baby room into an adorable paradise for your newborn. With every item added into your cart translating into fresh opportunities for customizing your baby room, Lady Mommy Goes Shopping transcends from merely being a shopping simulator into a game endorsing creativity and strategic thinking.
Surely, with its engaging content and incredibly fun tasks,Lady Mommy Goes Shopping will keep our little ladies entertained while subtly teaching them the value of hard work and money. It's undoubtedly twice the fun with half the fuss!
What are the best online games?