Labrador at the Doctor Salon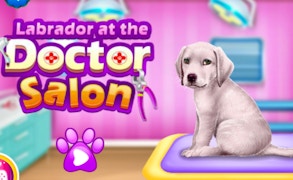 Labrador at the Doctor Salon
Unleash your love and compassion for our furry friends with the charming and heartwarming game, Labrador at the Doctor Salon. Specifically designed as a game for girls, yet engaging for all young animal lovers, this game is a heartwarming voyage into the world of pet care and animal games that provides both education and entertainment.
Step into the shoes of a veterinary doctor in this captivating operation game, where your mission is to look after an adorable Labrador. The challenge lies in maintaining the health of this dog's gleaming teeth, ears, and shiny fur. Daily chores escalate into gratifying rewards as you implement spa treatments to keep your canine patient in peak condition.
Make no bones about it; Labrador at the Doctor Salon goes beyond other pet grooming games. This enjoyable animal game incorporates elements of dental hygiene awareness and comprehensive nursing techniques - it's all paws on deck as you delve deeper into the intriguing world of dog care.
Offering a range of interactive features from teeth cleanings to ear checkups and overall grooming, Labrador at the Doctor Salon is a delightful blend of educational gameplay with lovable characters. It's like having your very own digital pet salon at your fingertips!
In conclusion, if you're in search of fun-filled games for girls or captivating animal games with an educational twist, then give Labrador at the Doctor Salon a try. It's not just an operation game; it's a celebration of our unwavering love for dogs. Get engrossed in providing top-notch care to your Labrador friend & see how rewarding pet caretaking can truly be!
What are the best online games?