Kung Fruit Fighting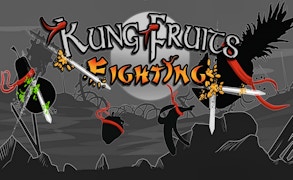 Kung Fruit Fighting
If you're a tenacious fan of arcade games, revel in the thrill of sharpened swords, and have a particular penchant for shadowy, fleet-footed ninjas, then your gaming quest may just have found its Holy Grail. Enter the unique and captivating world of Kung Fruit Fighting: a compelling synthesis of high-paced action and strategic decision making that defies the ordinary.
Kung Fruit Fighting is by far one of the most refreshing offerings in the realm of sword games and ninja games. This isn't just about hurling blade-edged weaponry at random objects; it's about becoming the respected leader of an ancient clan pledged to uphold the honor of blue vegetables against their age-old rival: the hideously menacing red fruits clan.
The game mechanics are beautifully designed, instilling into players an intuitive sense of control right from the outset. Each fruit chop is executed with an exhilarating burst of kung fu mastery, reinforcing a constant adrenaline rush that keeps you riveted to your screen with bated breath. But remember, not all targets deserve your wrath—your own vegetable brethren must be spared lest you jeopardize your own standing in this colorful war!
The key charm here is not simply about mastering your slicing skills; it's also about demonstrating sagacity in distinguishing friends from fruits—therein lie the real challenge and fun. The age-old adage rings true here: "With great power comes great responsibility". And nothing underscores this more than Kung Fruit Fighting—easily one of the most fun games on offer today.
In summary, if you're after a gaming experience that combines humor, strategy, dexterity and sheer thrill into one cohesive bundle, then Kung Fruit Fighting is worth every byte on your gaming device. Embrace it with gusto—you won't regret it!
What are the best online games?