Kumba Kool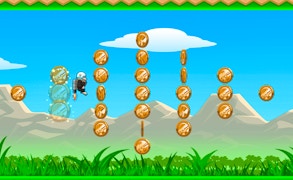 Kumba Kool
Prepare yourself for a riveting rollercoaster of an adventure with Kumba Kool, a top-tier entry in the world of Animal Games, skill games and, for those with an avian inclination, flying games. As an arcade game enthusiast, you're bound to be drawn into the exhilarating environment and the charmingly colorful visual feast that Kumba Kool dishes out.
Kumba Kool lets you not only dive into the skin of an endearing protagonist but also soar through the azure blue skies by fully immersing yourself in this blend of flying and animal games. With its intuitive controls, it easily stands out from the hoard of skill games. Driven by points, every moment is a breath-holding experience, where your crucial decision-making skills determine your survival while earning as many points as possible.
Dive headfirst into this one-of-a-kind arcade adventure. In Kumba Kool, you will be delighted by mesmerizing landscapes as they whizz past you in a seamless endless side scroller. The breathtaking rapidity of this exciting game makes it both a test of your reflexes and a fine-tuned workout for your strategic thinking.
For those who love Flying Games, Kumba Kool flies high above its competition. With each seamless glide and whirl through obstacles, you'll find yourself entranced by the fluidity and addictiveness that every round brings.
In conclusion, Kumba Kool is an exemplary addition to both animal games and flying games genre. It elevates itself beyond being a mere skill game to becoming a thrilling journey that is spearheaded by its charming protagonist and engaging gameplay mechanisms. It's certainly more than just 'cool', it's definitely 'Kool' by every measure.
What are the best online games?