Kogama: Wipeout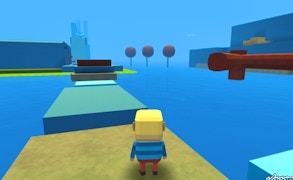 Kogama: Wipeout
Kick off your adrenaline rush with the electrifying world of Kogama: Wipeout, a supercharged enthralling title that effortlessly blends elements from running games, gun games, and skill games. This incarnation is an exceptional offering in the realm of multiplayer games, providing endless hours of competitive entertainment.
The name 'Wipeout' perfectly encapsulates the exhilarating essence of this multiplayer title. But it's not just about running; it's about surviving against the odds stacked heavily against you, as you traverse perilous terrain armed with powerful guns and your wits.
Fast-paced and packed with non-stop action, Kogama: Wipeout undoubtedly holds a candle to some of the best running games around. It's not for the faint-hearted; it's a pulse-pounding quest where timing, coordination, and sharp reflexes are your only allies.
This adventure packs more punch than most gun games, as shooting is not just about blasting away aimlessly — it's about precision, strategic planning, and swift execution. From the get-go, you'll find yourself locked in relentless battles that demand mad skills and nerves of steel.
Rising above the generic shooter game expectation, Kogama: Wipeout takes a plunge into skill games. The journey is fraught with extraordinary challenges that push you to constantly evolve your strategy while sharpening your reflexes. The multiplayer aspect broadens the experience further by offering opportunities for teamwork or rivalry.
In conclusion, Kogama: Wipeout stands out as a thrilling crossover experiment between running games, gun games and skill games. Its multiplayer feature breathes fresh life into these genres by introducing intense player-vs-player competition or cooperation. For thrill-seekers craving an adrenaline-packed gaming escapade, buckle up for an unforgettable ride!
What are the best online games?