Kogama: Temple Of Doom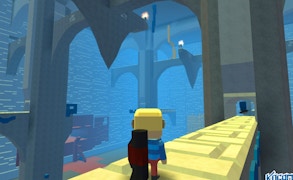 Kogama: Temple Of Doom
Welcome to the adrenaline-filled world of Kogama: Temple Of Doom, a unique exhilarating blend of building games and gun games. This multiplayer 3D shooter breaks from the pack by merging the creativity of constructing intricate worlds with the high-octane excitement of action-packed combat.
As soon as you set foot into Kogama's universe, you're confronted with vast landscapes and intricate structures that tantalize your builder's instincts. The building game aspect is both creative and intuitive, giving you complete control in shaping your environment. Whether your forte is towering skyscrapers or sprawling fortresses, Kogama: Temple of Doom caters to all tastes.
But Kogama is not just about construction; it's a multiplayer thrill ride with an emphasis on sharp shooting skills. While many gun games offer rinse-and-repeat gunfire, Kogama: Temple Of Doom wraps it in a mystery-filled package that keeps players engaged and invested.
The strength of this game lies in its seamless blend of building and battling. Your structures aren't just for show - they can offer strategic benefits during combat, such as providing cover or setting traps for unwary opponents. This combination of strategy and firepower lifts Kogama: Temple Of Doom above the typical multiplayer experience.
Kogama: Temple Of Doom offers a fresh take on the multiplayer 3D shooter genre, combining inventive building mechanics with fast-paced gunplay. Whether you're a skilled architect or an expert marksman, this game offers ample opportunities for both creative expression and action-packed skirmishes. As such, Kogama: Temple Of Doom is an unmissable experience for fans of both gun games and building games alike.
What are the best online games?
Tags