Kogama: Speedrun Legend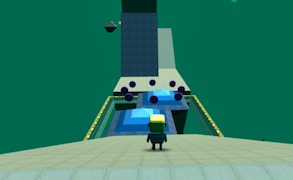 Kogama: Speedrun Legend
Prepare to lace up your digital sneakers for the exhilarating world of Kogama: Speedrun Legend, the pinnacle of multiplayer running games. This action-packed game sets a new standard for skill games, propelling players through a series of intricate parkour maps, each brimming with a unique blend of obstacles and challenges.
In Kogama: Speedrun Legend, it's not just about crossing the finish line—it's about how quickly you can do it. The objective is straightforward: Get to the flag before anyone else. Sounds simple, right? But don't be fooled. The real magic lies in mastering the high-speed controls, quick-thinking strategy, and pinpoint precision required to outpace your competition.
The heart-pounding excitement starts right from the first map. From grinding poles to vaulting over barriers, each parkour stunt requires agility and dexterity, putting your gaming skills firmly to the test. As you progress through each level, you'll discover that every map is like a puzzle waiting to be solved at breakneck speed.
But where this game truly shines is its multiplayer facet. Whether you're competing against friends or going head-to-head with anonymous worldwide gamers, Kogama: Speedrun Legend fosters a thrilling sense of rivalry. The race for domination adds another layer of adrenaline-fueled excitement that will keep you returning for just one more run.
In conclusion, if you're a gaming enthusiast seeking an engaging blend of speed and skill in your running games, then Kogama: Speedrun Legend is your game. It rewards not only agility but also strategic planning, making it a standout choice in multiplayer skill games territory.
What are the best online games?
Tags