Kogama: Rainbow Parkour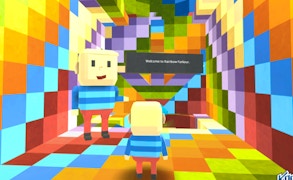 Kogama: Rainbow Parkour
Dive into the technicolor world of Kogama: Rainbow Parkour, a standout title in the cannon of multiplayer running games. Brace yourself for a vivid, high-energy adventure, designed to test your reflexes and ability to strategize on-the-go.
As an outstanding representative of skill games, Kogama: Rainbow Parkour blends vibrant visuals with challenging gameplay. Imagine a mix between Candyland and American Ninja Warrior—but in a video game format. The result is an addictive, high-stakes race through a kaleidoscope of colors.
The main gist is simple: challenge your friends to see who can reach the end first. Yet, beneath this basic premise lies an intricate labyrinth of obstacles and hurdles that demand sharp skills and swift reflexes. Timing is everything in Kogama: Rainbow Parkour. Every jump, dodge, or sprint could mean the difference between leading the pack or lagging behind.
This multiplayer running game strikes an impressive balance between fun and frustration. It's tough enough to keep you hooked, yet not so difficult that it feels impossible. The controls are intuitive, facilitating smooth movement through the game's complex network of platforms and pitfalls.
In summary, Kogama: Rainbow Parkour is not just another run-of-the-mill skill game—it's a riveting exploration of agility and tactical prowess set against an eye-catching backdrop. It challenges players to not only compete head-to-head but also refine their navigational abilities, making every victory deeply satisfying.
If you're a fan of multiplayer running games or skill games at large, give Kogama: Rainbow Parkour a try—it's sure to captivate your senses and challenge your dexterity like never before!
What are the best online games?
Tags