Kogama: Parkour 25 Levels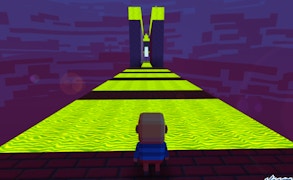 Kogama: Parkour 25 Levels
Kogama: Parkour 25 Levels
Step into the adrenaline-fueled world of Kogama: Parkour 25 Levels, a high-stakes multiplayer experience that redefines the running games and skill games genre. This intense thrill ride offers non-stop, parkour-fueled action bound to captivate gamers of all experience levels.
If you revel in the thrill of competition and the sheer satisfaction of mastering precise controls, Kogama: Parkour 25 Levels is a must-play. From the very first level, it becomes abundantly clear that this is no ordinary running game – it's a pulse-pounding race against time where every second counts. The open-world design exhilarates with dizzying heights and daunting drops, demanding laser-focus and precision from players at every turn.
In true skill game fashion, Kogama: Parkour 25 Levels rewards mastery. Each run is a lesson, teaching novices to become experts through trial and error until every glide, jump, and roll becomes second nature. And with 25 challenging levels to conquer, players are ensured hours of riveting gameplay.
The competitive multiplayer aspect ups the ante even further. Racing against friends introduces a strategic layer atop the already intense parkour gameplay. Every decision you make might earn you precious seconds over your rivals or cost you the race entirely – a thrilling risk/reward element that will keep you coming back for more.
In conclusion, Kogama: Parkour 25 Levels evolves the running game genre by introducing parkour mechanics in an exciting multiplayer format. Its sublime balance between skill acquisition and strategy makes it one of the best skill games we've experienced recently.
If you're a fan of high-octane multiplayer action or just looking for an immersive skill game to hone your reflexes and strategic thinking, Kogama: Parkour 25 Levels is definitely worth checking out!
What are the best online games?
TAGS