Kogama: DM Rats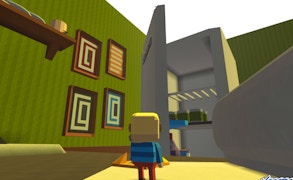 Kogama: DM Rats
Crank up your adrenaline and step into the explosive world of Kogama: DM Rats, a sizzling multiplayer competitor in the thrilling realm of gun games and skill games. This review is your guide to understanding what makes this game a runaway favorite among gamers worldwide.
Brought to life with stunningly immersive 3D graphics, Kogama: DM Rats transports you into an action-packed universe that thrives on strategic gameplay, acute reflexes, and expert shooting skills. Imagine yourself shrunk down to the size of a rat, trapped within the unsympathetic confines of a human household, forced to outmaneuver and outgun your opponents for survival. Yes, it's as thrilling as it sounds!
The game's multiplayer aspect amplifies its intensity ten-fold. Each match is a nail-biting face-off with real players worldwide, adding a challenging unpredictability unique to multiplayer gun games. It's you against the world in these labyrinthine confines where every corner could harbor an enemy.
Yet Kogama: DM Rats isn't just about unloading bullets. There's an emphasis on skill games, with a high demand for tactical thinking. Choosing the right weapons from an extensive arsenal, mastering the map's tricky layout and devising shrewd strategies are just as crucial as your trigger-finger reflexes.
With its blend of breathless action, strategic gameplay, and intense player-versus-player battles, Kogama: DM Rats stakes its claim as one of the most exciting gun-and-skill-themed multiplayer offerings currently on the market. It's time to gear up and dive into this world where only your skills and iron will can ensure victory!
What are the best online games?
TAGS