Kogama: BossBattle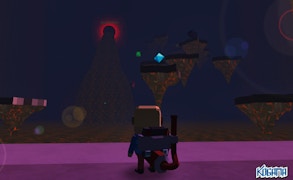 Kogama: BossBattle
Welcome, fellow gamers, to the electrifying world of Kogama: BossBattle! Step into the arena and test your mettle in one of the most exhilarating multiplayer gun games that the gaming realm has to offer. In a landscape crowded with repetitive battle games, Kogama: BossBattle emerges as a welcome breath of fresh air.
Imagine yourself transported into a universe brimming with intense action, where every turn tests your strategy and reflexes. With a unique take on boss fights, this game is guaranteed to ignite your love for battle games. Beat the boss level and prove your dominance in this intense combat realm.
The gameplay designed and balanced for multiplayer action ensures that you're always on your toes. Whether you're a team player or a lone wolf, Kogama: BossBattle offers an immersive experience that keeps you coming back for more.
The meticulous attention to detail is evident as soon as you step into this virtual battlefield. The crisp graphics combined with an adrenaline-pumping soundtrack place this game at the top tier of gun games. Whether it's a high-powered rifle or a trusty handgun, the wide range of weaponry ensures each player finds their perfect fit.
Aspiring strategists will find themselves enamored with Kogama: BossBattle's approach to level design. Each map provides unique tactical opportunities making even repeat plays feel fresh and exciting.
To sum up, Kogama: BossBattle is not just another title in the ocean of multiplayer gun games; it's an immersive battle experience that challenges your strategy and quick thinking abilities. Beat the boss level and let victory mark your name in this epic combat universe. Gear up, soldier!
What are the best online games?
TAGS