Kogama: 4 Player Parkour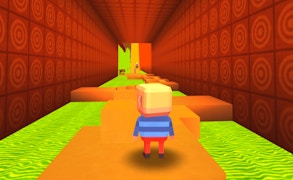 Kogama: 4 Player Parkour
Immerse yourself in the electrifying world of Kogama: 4 Player Parkour, a standout among multiplayer running games that combines adrenaline-filled action with strategic gun games and challenging skill games.
This multiplayer spectacle brings together players from across the globe in an exciting, fast-paced parkour race. Test your agility, speed up, and compete against three other players within interactive 3D environments that redefine the essence of running games.
One of the most captivating aspects of Kogama: 4 Player Parkour is its unique blend of elements from gun games. Not only must you outpace your competitors, but you also need to outshoot them with a variety of weapons. This unexpected mix brings an additional layer of strategy and unpredictability to the game, pushing the boundaries of typical multiplayer experiences.
Moreover, as a true skill game, this multiplayer marvel offers increasingly complex levels that challenge not only your speed and shooting abilities but also your problem-solving skills. From complex mazes to dangerous obstacles, every round feels like a brand-new adventure.
In conclusion, Kogama: 4 Player Parkour provides a thrilling fusion of running games, gun games and skill games within a multiplayer context. This game has set the bar high for future releases in this genre and is certainly worth adding to your gaming collection.
If you're seeking a heart-racing experience that tests both your reflexes and strategic prowess in equal measure, look no further than Kogama: 4 Player Parkour. It's time to take the leap and dive into this action-packed playground where only the fastest and the smartest survive!
What are the best online games?