Knives Crash io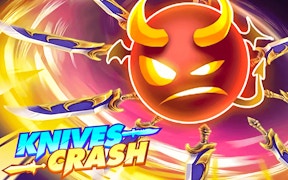 Knives Crash io
Step into a riveting world of battle and adventure with the new sensation in the .io genre, Knives Crash io. This enthralling game, a perfect blend of knight games and sword games, is set to redefine your gaming experience.
Engage in gripping combat sequences with your enemies, navigating astutely across this knives battlefield. Stoke your strategic prowess as you collect knives, which not only recharges your arsenal but also amplifies your striking force. The more knives you gather, the mightier becomes your knight; truly a survival game at its core.
The thrilling gameplay permits you to crush and slice through your foes' defenses, thereby allowing you to confiscate their weapons. An ingenious aspect of Knives Crash io is its ability to transform every collection into potential power, thus underlining its credentials as one of the finest survival games.
In this intensely captivating game of strategy and skill, the player can also achieve victory by playing defense – a feature that sets it apart from other ordinary battle games. Your knight's survival hinges on his adeptness at both offense and defense, thereby making it an exhilarating experience that keeps you at the edge of your seat.
Kickstart your journey in the divine warfare of knights with Knives Crash io. Whether a novice or a seasoned gamer, this fast-paced sword game will captivate you with its enthralling graphics and immersive gameplay. So gear up to vanquish your rivals and prove your mettle in this intense battle for survival!
In conclusion, if you're on the hunt for an engaging mix of knightly warfare, sword-wielding action, and high-stakes survival – Knives Crash io is definitely a game that needs to be on your radar.
What are the best online games?