Knives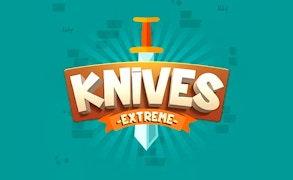 Knives
Description
With a sharp edge and quick reflexes, Knives is the arcade game that tests your timing skills under pressure. This intense game involves flinging your weapon at a spinning platform, aiming for a clear spot. The challenge lies in avoiding the other knives already lodged into the surface. Its addictive and thrilling gameplay will keep you coming back for more, so aim well and let it fly!
How to play
The gameplay is straightforward, yet challenging. Click or tap on the screen to throw your knife. Your timing skills are essential as the target platform rotates at varying speeds and directions. The objective is to avoid hitting existing knives on the platform. As you progress further, the difficulty increases, requiring precise timing and strategy.
Tips and Tricks
Don't rush into throwing knives randomly. Instead, find a rhythm in the platform's rotation and time your shots accordingly. Remember that patience is key. Waiting for your moment can make all the difference between setting a new high score or having to start over.
Features
An addictive arcade game with exciting dynamics.
A test of precision aiming and perfect timing skills.
Increasing difficulty as you progress further in the game.
A chance to establish high scores and compete with players worldwide.
What are the best online games?