Knight Rider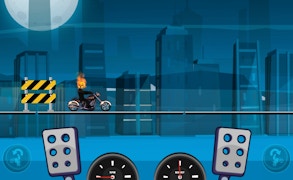 Knight Rider
Embark on an adrenaline-pumping journey with Knight Rider, a thrilling addition to the realm of motorcycle games. Perfect for fans of movie games who crave dynamic challenges and exhilarating racing experiences, this game delivers on all fronts.
In the heart of the dirt bike games genre, Knight Rider reigns supreme. Overcome exciting challenges that require a balance of speed and acceleration, pushing your skills to their limit. This is no ordinary driving game—it's a battle against the terrain, your bike acting as your steed in this knightly mission.
Knight Rider is not just about taming the monster beneath you; it's about harnessing its power in a world where speed rules and caution falls by the wayside. The game engine does an exceptional job with its stunning visual effects at full throttle, immersing players in a vivid world of blistering speed and dust-clouded tension.
As far as monster games go, Knight Rider stands tall due to its beautifully integrated challenges that make it more than just another driving game. It combines the grittiness of dirt bike games with the high-speed thrill only monster games can provide. Are you ready to conquer this dragon?
The masterful control over your ride's speed and acceleration is your key to victory in this daring race. So, strap on your helmet, rev up your engine and give in to the fast-paced frenzy that awaits you in this must-play addition to motorcycle games—Knight Rider
A word of advice from one gamer to another—Good Luck! You'll need it.
What are the best online games?