Knife Hit Game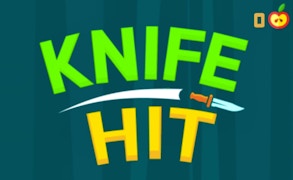 Knife Hit Game
Prepare your reflexes and hone your precision for an electrifying dive into the world of arcade tap and clicker games with the exhilarating game - Knife Hit. In this nerve-wracking experience, subtlety meets high-octane action. It's not just a game; it's a test of mettle, skill, and undying persistence.
The game's premise is deceptively simple: throw knives into a spinning chunk of wood. Yet, this seemingly straightforward task evolves into an addictive challenge that keeps you on the edge of your seat. Every saved knife counts, every miss takes you back to square one. You're not just playing against the game but against yourself, pushing boundaries and refining your skills with every tap.
As if the heart-pounding knife-throwing action isn't enough, Knife Hit periodically introduces boss battles that crank up the intensity several notches. These bosses are unpredictable, their speed fluctuating rapidly - a gauntlet thrown by the developers to truly test your mettle in these Skill Games. A moment's distraction can result in spectacular failure, but success brings unparalleled joy.
Knife Hit expertly blurs the line between simplicity and complexity found in tap games - offering an experience that is easy to pick up yet hard to master. With each click delivering a satisfying thrill, it pushes you to improve and attain that elusive perfect score.
This is an arcade revolution nestled in your pocket, transforming tedious commutes into throbbing bouts of nail-biting action punctuated by swift flicks of finger-mastery. If you believe gaming should challenge as well as entertain, then Knife Hit, with its mesmerizing whirl of blades and wood, should be your next stop on this thrilling arcade journey.
What are the best online games?