Knife attack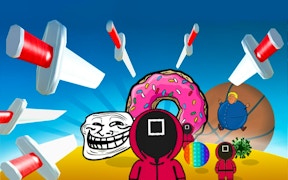 Knife attack
Unlock the universe of arcade gaming with a thrilling new release, Knife Attack. An exciting fusion of traditional arcade spirit and modern gaming dynamics that soaks you into an adrenaline-filled world of swordplay and strategy. This spectacular game effortlessly checks boxes for fans of skill games, sword games, clicker games, and tap games.
The game ignites the thrill by offering you the power to craft your own knives as powerful tools to descend upon your foes. Upgrading these fierce blades brings an extra layer of sophistication, making every journey through the waves of enemies a unique experience in this addicting blend of sword and clicker games.
Fighting against bosses at each 5th level is an exciting twist that keeps you gripped to the screen. It's not just about dealing unrestrained blows with your knife; it's about outsmarting these formidable opponents that makes Knife Attack stand tall amongst other sword games.
The genius lies in blending simplicity with a reward system, where throwing knives fetch you money, which can be wisely invested back into improvements. Keeping players engrossed with classic arcade elements while teaching them the subtle art of investment truly sets Knife Attack apart from other typical tap games.
To summarise, Knife Attack is a perfect blend of old-school mechanics, intriguing strategic gameplay, boosting your armor and honing your skills. Whether you're a seasoned gamer missing the arcade era or someone looking for a new favorite in skill-based or tap-gaming genres - Knife Attack has something for everyone.
If you're ready for some high-speed action and have a desire to wield powerful blades against formidable foes - it's time to embark on the exhilarating journey that is Knife Attack!
What are the best online games?