Kitty Mission Accident ER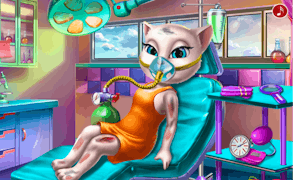 Kitty Mission Accident ER
Welcome to our latest dive into the colorful world of games for girls with an adorable twist. Today, we will be playing and reviewing the charming, 'Kitty Mission Accident ER'. An enchanting game that perfectly blends the elements of cat games, animal games, and innovative operation games.
In this dynamic game, you will step into the shoes of a compassionate veterinarian who is challenged with bringing Kitty, a cute furry patient back to health. Your mission is to treat Kitty's wounds with all sorts of fun tools — think laser guns to vanquish bacteria, vitamins to boost her immunity, and even a little hydration therapy with water. After all these medical travails, prepare Kitty for her vaccine and watch her leap back into action.
'Kitty Mission Accident ER' is not just an ordinary cat game. It is a delightful blend of medical drama and adventure that keeps players engaged from the first aid kit selection to the final stages of recovery. It wonderfully encapsulates the thrilling essence of operation games and combines it with a heart-thrilling storyline.
Throughout the game, you are not just healing Kitty; you're building an emotional bond that tugs at your heartstrings every time she purrs in gratitude. The immersive graphics and intuitive controls are sure to keep your fingers busy while making sure our vibrant feline friend recovers completely.
The magic lies in how 'Kitty Mission Accident ER' can both educate young minds about medical realities while entertaining them endlessly. It makes it one of the most compelling games for girls on today's market.
In conclusion, 'Kitty Mission Accident ER' reinvents cat games, fuses in elements from other animal games, innovates within operation games, making it an exciting choice within games for girls. This game takes players on a caring journey filled with laughs, learning opportunities and lots of love – all things your own little angels deserve!
What are the best online games?