Kitty Drop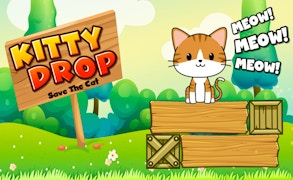 Kitty Drop
Description
In Kitty Drop, you'll need to use your strategy skills to help a cute little cat land safely on the grass. This physics-based puzzle game involves removing specific boxes, blocks, and props from the screen, leaving only the grass for our feline friend. The game gets more challenging with each of the 28 unique levels.
How to play
The gameplay in Kitty Drop is simple but addictive. The goal is to click on the boxes and other objects to get rid of them and make a safe landing path for the cat. Remember, all elements except the grass should be eliminated for you to progress to the next level. If you've made an incorrect move, don't worry—you can reset each level.
Tips and Tricks
Take your time before making a move. Each level can be navigated strategically, so analyze every block's position before you click on it. Better planning will let you advance faster in Kitty Drop! Remember that you can reset the level if you get stuck.
Features
Innovative physics-based puzzles that increase in complexity with each level.
A cute kitty character, which will surely appeal to cat lovers!
An easy reset functionality, allowing players to try different strategies on each level.
Addictive and strategic gameplay, perfect for casual gaming sessions.
What are the best online games?