Kitty Doctor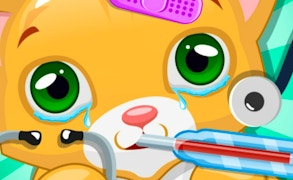 Kitty Doctor
Step into the adorable veterinary world of Kitty Doctor, one of the finest games for kids and an absolute delight for young hearts, especially those who adore cute, fluffy creatures. The game is a fantastic blend of animal games, cat games, and operation games, making it perfect for little ones inclined to the veterinary profession.
Dive into the world of feline care as a professional veterinarian, tasked to cure a range of maladies plaguing your kitty patients. Your primary charge is a little kitty, afflicted with various ailments ranging from fever to thorns, ear infections, and even broken bones. With each successful treatment you provide in these engaging cat games, you'll grow closer to being the best veterinary doctor in your virtual world.
This fun, addictive hypercasual game not only lets gamers explore pet treatments but also allows them to undergo real-world experiences like conducting ultrasounds in your own animal hospital—an immersive scenario that sets Kitty Doctor apart from other usual games for girls. The more kitty cats you treat, the more stars you collect— opening up new possibilities like unlocking more cat hospitals and vet centers.
The journey doesn't end at cures; in fact, Kitty Doctor takes pet care a notch higher! Once you treat your furry patients' wounds and cure their illnesses, make sure they're well-fed from the pet store—a lovely touch that adds warmth to these delightful games for kids.
Kitty Doctor artfully binds the joy of gaming with the love for animals; it's more than just a game; it's an adorable interactive experience that every child will undoubtedly enjoy! Whether you're looking for an engaging way to put your free time to use or seeking an entertaining yet educational game for your child—Kitty Doctor should be your top pick. It's not just about playing; it's about learning dressed as fun.
What are the best online games?