Kittens Selfie Time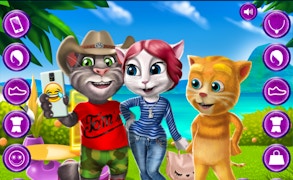 Kittens Selfie Time
In the enchanting world of Kittens Selfie Time, the experience goes beyond a regular game - it's a delightful escapade into an adorable universe of feline fashion. Catering to an audience that values cute, creative, and colorful gameplay, this title stands out in the genre of games for girls and brilliantly captures the essence of cat games.
The vivacious and heart-warming gameplay are a testament to its standing as one of the most cherished animal games. The kittens' quest for the most perfect selfie is a delightful narrative that hooks players from the outset. What sets this game apart is that it's not just about clicking pictures - it beautifully merges elements of fashion games and dress up games, which amplifies the overall gaming experience.
Dressing up these virtual pets in dazzling outfits, matching their shoes, accessorizing them - all contribute towards fueling the creative instincts in children. This unique concept blends seamlessly with different gameplay elements, thereby emerging as a top-notch offering among Hairdresser Games.
The game allows players to experiment with various hairstyles for the kittens, adding an extra layer of engagement. Changing backgrounds ensures endless possibilities for cuteness overload and presents an opportunity for everyone to look their absolute best.
In conclusion, Kittens Selfie Time is more than just a game; it's an avenue for children to express creativity and have fun doing so. Its vibrant setting, eye-catching animations and immersive gameplay make it an irresistible option for anyone looking for entertaining kids' games.
What are the best online games?