Kitten Match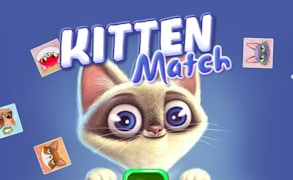 Kitten Match
Preparing for a feline-filled adventure? Welcome aboard our review of the delightful Kitten Match, a charming offering in the genre of cat games and animal games. Not just a favourite among kids, Kitten Match's unique blend of puzzle-solving dynamics and memory challenges make it perfect for all ages.
Kitten Match takes players on a beguiling journey through an array of cute kittens, waiting to be paired and purred! Games for Kids often lack depth, but not this one. Marvel at the challenge as it draws out your inner detective spirit to find identical pairs of adorable kittens hidden in the deck.
The crux lies in its engaging premise – think of Kitten Match as an adventurous safari right within your home – where adorable kittens replace wild creatures. As part of the ever-growing roster of popular memory games, Kitten Match will undoubtedly sharpen your memory skills while tickling your sense of joy.
The best kids puzzle games are designed to subtly improve cognitive abilities, and Kitten Match delivers on that front with aplomb. It promotes pattern recognition, spatial intelligence, and problem-solving abilities without shifting focus from fun. This balance makes Kitten Match more than just another cutesy game; it provides gameplay with substance.
In conclusion, whether you wish to test your memory prowess or simply adore kittens, Kitten Match is undeniably enticing. This captivating game embodies what cat games, animal games, or even broader – games for kids, strive to achieve - a unique blend of fun, challenge and learning all rolled into one compact package.
What are the best online games?