Kitchen Slacking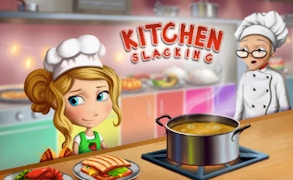 Kitchen Slacking
Unleash your inner Masterchef with the delightful Kitchen Slacking! Particularly designed to stir the culinary spirit in kids, this game embodies a perfect blend of fun and learning. Falling under the prime tags of Games for Girls, Games for Kids, and Cooking games, Kitchen Slacking opens up an enthralling world where kids get to don the chef's hat and navigate through the fascinating kitchen environment.
The real allure of Kitchen Slacking lies in its captivating gameplay. As a Junior Chef, you are given full command over your kitchen at home. You'll be able to prepare mouth-watering dishes like pizza or burger, thereby, facilitating a creative insight into food preparation. The game cleverly imbibes an entrepreneurial spirit in children as they can fantasize about future prospects - be it owning a restaurant or buying their own Food Truck.
Kitchen Slacking is not just any other cooking game; it's an adventure into the realm of cuisine that teaches kids to cook faster and better each time. Always dreamt of creating a cooking fever with professional food? This game allows you to be a real master in the kitchen! It encourages kids to indulge in their culinary fantasies while fostering their creativity and tactical skills.
In conclusion, Kitchen Slacking cultivates a unique combination of gaming pleasure and practical learning which makes it stand out among other Games for Kids. It fosters creativity, quickens decision-making skills, and above all, encourages culinary passion among kids – making it much more than just another cooking themed video game! Get your hands on this fun-filled cooking extravaganza and experience a whirlwind journey from being a Junior Chef to mastering professional cuisine!
What are the best online games?