Kingdom of Ninja 2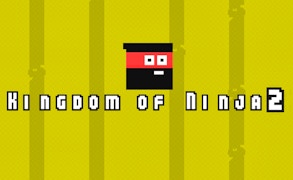 Kingdom of Ninja 2
Description
Embark on a thrilling ninja adventure in Kingdom of Ninja 2, the sequel to the popular arcade game, Kingdom of Ninja. Experience the thrill of overcoming various challenges, outsmarting monsters and unlocking new levels. Your ultimate goal is to retrieve the chest that holds the key to the next level. With 10 different levels to conquer, this game promises hours of exciting gameplay.
How to play
Skillfully navigate across each level using "Z" to Jump and "Arrow keys" to Move. For mobile users, Touch Controls are available. Reach for the chest while avoiding getting devoured by lurking monsters. Each chest you secure transports you to an even more thrilling level.
Tips and Tricks
To excel in Kingdom of Ninja 2, time your jumps carefully and always stay alert for incoming monsters. Strategize your moves and make smart use of available paths to reach chests faster.
Features
Venture across 10 diverse levels packed with suspense and excitement.
Avoid dangerous monsters while racing towards your objective.
Enjoy intuitive controls perfect for both PC and mobile gamers.
An engaging storyline that will keep you on the edge of your seat.
What are the best online games?