King Rathor 2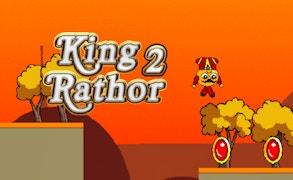 King Rathor 2
Description
In King Rathor 2, you step into the greaves of a valiant monarch on a daring rescue mission. This thrilling 2D platformer invites players to navigate treacherous environments, elude crafty enemies and collect precious ornaments. With each progressing level of the game's eight distinct stages, the stakes rise, the challenges intensify, and only the bravest survive. Experience the much-anticipated sequel of an acclaimed king-games saga.
How to play
King Rathor 2 utilizes straightforward "WASD" or "Arrow" keys for character movements. To execute a double jump, simply press "W" or "Up" arrow key twice. The goal is to evade obstacles like enemy soldiers, flying birds, spikes and saws and successfully rescue the queen in each level to advance in this skill-based game.
Tips and Tricks
Timing matters; observe enemies' patterns before making your move. Use double jump wisely as it can help both in avoiding obstacles and reaching higher places. Remember to collect as many ornaments as possible for extra points.
Features
Challenging 8-level gameplay that increases in difficulty.
A variety of threats including enemy soldiers, airborne foes and environmental hazards.
Precious ornaments to collect for bonus points.
Straightforward controls for easy manoeuvring.
Immersive sequel in an exciting platformer series.
What are the best online games?