King Rathor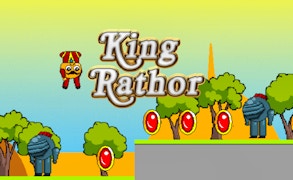 King Rathor
Description
In King Rathor, you inhabit the role of a brave monarch on a daring quest. The Queen has been seized by barbaric foes, and it is your royal duty to breach enemy lines and transport her to safety. Traverse through 8 increasingly challenging terrains, dodging deadly traps and ruthless adversaries while gathering valuable ornaments scattered throughout the game.
How to play
To direct King Rathor on his gallant mission, use "WASD" or "Arrow" keys. Jump over hurdles or onto platforms with the "W" or "Up" arrow key. For higher leaps, press the same keys twice for a double jump. Be quick and clever - the Queen depends on you!
Tips and Tricks
Timing is key in King Rathor. Hasty decisions can invite mishaps while slow reactions can allow enemies to gain advantage. Use the double jump wisely; it's a powerful tool but requires precise timing to avoid extra dangers. Lastly, collect as many ornaments as possible - they may come in handy!
Features
Detailed 2D graphics which brings King Rathor's adventure to life.
A total of 8 challenging levels with increasing difficulty.
Addictive gameplay that demands strategic thinking and agile reflexes.
A captivating storyline encouraging players to rescue the queen.
What are the best online games?