King Fishing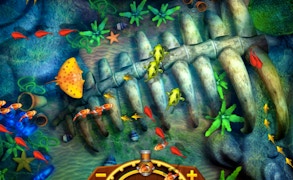 King Fishing
Dive deep into the majestic world of underwater adventure with King Fishing, a new milestone in the genre of adventure fishing games. As a gamer, you will be astounded by the vibrant graphics and immersive sound effects that transport you straight into the heart of the ocean.
In King Fishing, strategy is as vital as courage. You are presented with an arsenal of nine powerful cannons to choose from, each varying in size and range. The thought process behind which cannon to employ - whether to use small nets for smaller fish or large nets for bigger prey - adds a layer of complexity that will captivate casual gamers and hook hardcore players alike.
One of the game's unique selling points is its dynamic variety in strength and range when it comes to shooting cannon nets, setting it apart from other adventure fishing games on the market.
The thrill is in knowing that no two fish are the same; each catch could potentially bring you great rewards or leave you empty-handed. Whether you're an angler waiting for your big catch or someone looking for a simple yet engaging way to pass time, King Fishing offers just about everything that makes fishing games so enticing.
In conclusion, King Fishing goes beyond being just another game. It is an experience that tests your strategy, patience and luck. It's not just about catching fish; it's about immersing yourself in an exotic world teeming with opportunity. Whether you're a seasoned fishing games enthusiast or new to this genre of adventure gaming, King Fishing promises an exhilarating journey filled with unexpected treasure.
What are the best online games?
TAGS