Kim Cat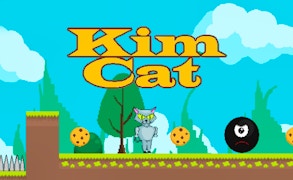 Kim Cat
Description
In the 2D platform world of Kim Cat, you'll channel your feline agility to leap, dash, and scamper your way to victory. Your goal is to nab as many cookies as possible while avoiding cunning traps and adversaries. The journey spans 8 progressively challenging levels where peril and adventure await at every turn.
How to play
To control Kim Cat, use the WASD or arrow keys. To enable our daring feline's double jump ability, press the "W" or "Up" arrow key twice. Hurdle over obstacles, sidestep enemies, and reach the red flag marking the end of each level. Don't forget to munch on delicious cookies along the way!
Tips and Tricks
Patience is key in Kim Cat! Carefully time your jumps to avoid falling into spikes. Remember that double jumps can save you from tricky situations. Keep an eye out for hidden cookies and be ready for increased difficulty throughout your cookie-collecting journey.
Features
Eight action-packed levels: Explore diverse environments with increasing difficulty.
Creative obstacles: Jump over spikes and steer clear of enemies in your path.
Cookies galore: Adventure isn't all about danger - it's about snacks too! Gather delicious cookies throughout each level.
Intriguing cat character: You control Kim Cat, a brave and agile hero with a knack for sweet treats.
What are the best online games?