Kids: Zoo Farm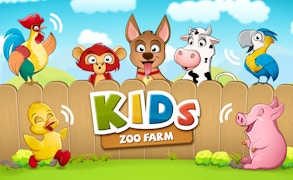 Kids: Zoo Farm
Description
Immerse your little ones in the engaging and educational world of Kids: Zoo Farm. This interactive game offers a virtual exploration of a zoo and farm, introducing kids to various animals from around the globe. Each animal comes with its own unique sound and preferred food, which children can discover firsthand. The fun doesn't stop there; a thrilling quiz lets kids guess the hidden animal based on sounds!
How to Play
The game is controlled by simple taps or clicks making it ideal for young users. Kids can navigate through the zoo or farm, tap on an animal to hear its sound, and feed them their favorite treat. The quiz at the end tests their memory and comprehension - they have to identify an animal by its sound that is hiding behind a curtain.
Tips and Tricks
Incorporate repetition in your playtime; it's key to learning for youngsters. Encourage them to listen carefully to each animal's sound, identify them, and remember their favorite foods. Prompting kids during the interactive quiz can help boost their problem-solving skills.
Features
A deep dive into the world of animals with detailed descriptions.
Educational content promoting learning through play.
An interactive quiz that sharpens memory and comprehension skills.
User-friendly controls perfect for toddlers.
What are the best online games?