Kids Coloring Game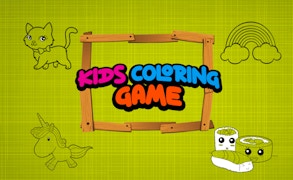 Kids Coloring Game
Description
Welcome to the vibrant world of Kids Coloring Game. This engaging HTML5 game is not just fun, but also a tool for kids to express their creativity. Loaded with numerous pictures and assorted colors, players have the freedom to color and bring alive every image according to their imagination. It's a perfect blend of fun and skill development wrapped up in one game.
How To Play
The game control of Kids Coloring Game is extremely simple. Click or tap on the color you want to use and then click on the part of the picture you want to color. The image fills up with your chosen color instantly. There's no limit - you can choose any color as many times as you like!
Tips and Tricks
Don't be afraid to experiment with color combinations. This game encourages creativity, so think outside the box. Also, try coloring the smaller parts first. It'll give a neat appearance without any accidental overlapping of colors on bigger parts.
Features
An array of vibrant colors to choose from.
A variety of images across different themes.
No time limits, play at your own pace.
User-friendly interface ensuring easy navigation for children.
Creative skill development while having fun.
What are the best online games?
Tags