Kids Color Book 2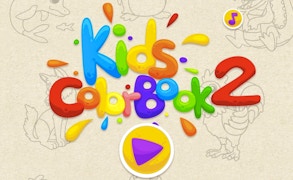 Kids Color Book 2
Welcome to a mesmerizing world of hue and creativity with Kids Color Book 2, an outstanding addition to our popular series of Games for Kids. With vibrant visuals, engaging gameplay and educational undertones, this enthralling entry in the realm of coloring games is sure to bring hours of joy to our youngest gamers.
The game bursts into life with its collection of 16 brand new images. Every image unravels a cute animal, waiting to be injected with color. From adorable puppies to cheerful hummingbirds, Kids Color Book 2 offers something for every young artist.
The real beauty of these fantastic coloring games lies in their dual purpose; these are not just games for kids, they are a fun and effective tool for skill development. The game helps children train their coordination skills while allowing them to play and experiment with a rainbow palette
The innovative design promotes color recognition, as players navigate through the wonderful world of shades. The game also provides an easy way for children to become familiar with lines and shapes, forming the backbone of early visual and spatial awareness education.
In conclusion, Kids Color Book 2 is not just about coloring animals; it's about opening doors to new learning pathways while ensuring children have fun at the same time. This makes it one of the must-have coloring games. Immerse yourself in the vivid wonderland that this game creates - experience the joy as your child's creativity unfolds onto the canvas!
What are the best online games?
TAGS