Kid Mermaids Coloring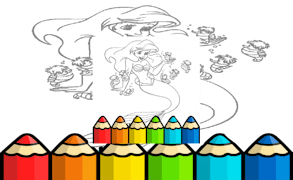 Kid Mermaids Coloring
Description
Welcome to "Kid Mermaids Coloring", a charming underwater world filled with fun and creativity. This game lets little ones bring playful mermaid scenes to life with their own artistic flair. Boasting a wide variety of color palettes and mermaid illustrations, children can enhance their motor skills and color recognition as they create their own aquatic masterpieces.
How to play
The game interface is kid-friendly and easy to navigate. Click on the desired mermaid picture to start coloring. Choose from a rainbow of colors located at the bottom of the screen, then click or tap on the area you wish to colorize. There's no time limit - just pure, undisrupted fun!
Tips and Tricks
Encourage your child to explore different color combinations for a more vibrant artwork. You can also use this game as a tool for teaching color names or stimulating story-telling based on the colored mermaid scene.
Features
A variety of cute, kid-friendly mermaid illustrations.
A rich color palette to stimulate creativity.
An easy-to-use interface designed specifically for little hands.
A fun and engaging learning through play experience.
What are the best online games?