Kevo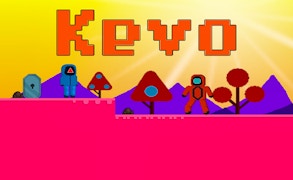 Kevo
Description
In the captivating arcade game Kevo, you embark on a quest to collect keys and escape through a locked door. Navigating through a maze-like 2D environment, you'll face obstacles such as hostile enemies, saws, and spikes. As you advance through each of the 8 levels, you'll find the difficulty significantly escalating.
How to play
Control your character using either WASD or arrow keys. Double jump to dodge pesky obstacles or reach higher platforms by swiftly pressing "W" or "Up" arrow key twice. The goal of each level is to collect all the keys to unlock the door while staying alive.
Tips and Tricks
Precision is key in this game - mastering your movements will significantly help in avoiding hazards. Plan your path ahead of time and always keep an eye out for enemy patrol patterns, this will help in minimizing chances of surprises.
Features
An engaging 2D platform game with increasing difficulty.
A variety of challenging obstacles including saws, spikes, and enemies.
Diverse set of levels that test your skills and strategy.
The ability to perform double jumps adds an extra layer of complexity.
What are the best online games?