Kawaii Superhero Maker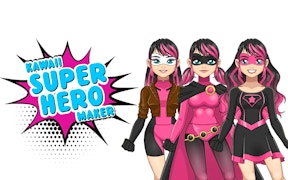 Kawaii Superhero Maker
Weaving its way into the realm of games for girls, Kawaii Superhero Maker is a charming blend of creativity, fashion, and quirky Japanese anime. This captivating game brings a fresh breath to the conventional girl gaming platforms usually centered around dress up and makeup games.
Stepping into the world of Kawaii Superhero Maker, you're not just indulging in another one among thousands of anime games. This game is different; it goes an extra mile by fusing the enchanting elements of superhero aesthetics with creative character building. Providing an extensive range of 192 items to choose from, it offers endless combinations for customized avatar creation. Whether your inclination is towards classic or modern styles – this game duly caters to both ends.
The feature that truly separates Kawaii Superhero Maker from other dress up games, is its interactive play mode. It's not just about putting together outfits and ensembles - it's about creating your virtual alter ego that channels your dreams and aspirations in the form of a super triumphant heroine. From being a hairstylist in Hairdresser Games, to delving into cosmetics in makeup games, you're given full liberty to design your superhero from scratch. In turn, this develops your own narrative, highlighting individuality and imaginative freedom.
Finally, the fun never ceases as you can continuously alter and refine your supergirl's persona. Create original characters or even try to replicate yourself as a superhero! In summary, Kawaii Superhero Maker brilliantly captures the alluring essence of character design within a fun-filled environment, making it standout amongst other games optimized for girls.
What are the best online games?