Just Jump Game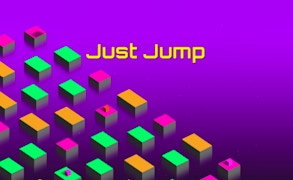 Just Jump Game
Immerse yourself in the exciting world of Just Jump Game, a thrilling addition to the ever-popular genre of Arcade gaming, specifically designed for those who have a deep affection for 'block games' and 'skill games'.
In the vibrant universe of Just Jump Game, you are poised on the edge of an interactive block, propelled by adrenaline and a single objective - jump from block to block without plummeting into the abyss. A game that truly tests your agility and reaction times, making it a perfect fit for fans of skill games.
Each jump in this enticing game represents not just a leap across digital blocks but also a leap in skill level. The higher you climb, the greater your score soars, contributing to an experience that is both exhilarating and rewarding. The dynamic block configuration makes it more challenging, as you never know where the next jump will lead. The unpredictability fuels the excitement and ensures you stay hooked to this arcade spectacle.
The controls are remarkably responsive and fluid, enabling precision jumps with minimal effort. This makes Just Jump Game an accessible title, welcoming both beginners and seasoned gamers to participate in its infinite hopping fun.
In conclusion, Just Jump Game is more than just another addition to your Collection of Block Games. It's a testament to the allure of simple gaming concepts executed with flair and precision. It's addictive, it's challenging, it's everything you want from an arcade game. Do you have what it takes to conquer these moving platforms and achieve top scores? Only one way to find out.
Take that leap of faith with Just Jump Game - because sometimes, all you need to do is just jump.
What are the best online games?