Jumping Man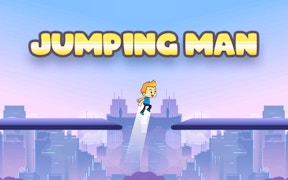 Jumping Man
Description
Take on the role of the intrepid Jumping Man. This thrilling action-adventure game will get your heart pounding as you navigate through a landscape filled with challenges. You will have to leap across platforms, dodge obstacles, and climb your way to victory. With its captivating gameplay and vibrant graphics, Jumping Man offers a fun-filled experience that will keep you on your toes.
How to play
The control mechanics for Jumping Man are straightforward. Tap on the screen to make Jumping Man leap from one platform to another. The longer you press, the higher he jumps. Remember, timing is crucial in this game; a misstep could send you tumbling down! As the game progresses, the jumps become more challenging, requiring precision and quick decision making.
Tips and Tricks
Avoid rushing in Jumping Man. The key is patience and timing. Take note of platform patterns as they tend to repeat over time. Learning these patterns can help you plan your jumps better and score higher points. Also, aim for perfect jumps which give bonus scores.
Features
Captivating Gameplay: With its easy-to-learn yet challenging mechanics, Jumping Man provides endless hours of fun.
Vibrant Graphics: Jumping Man's high-quality graphics deliver an immersive gaming experience.
Addictive Scoring System: Score points with perfect jumps and strive to beat your personal best.
Precision Controls: With its simple tap-based controls, you'll have complete command over Jumping Man's movements.
What are the best online games?