Jumping Horse 3D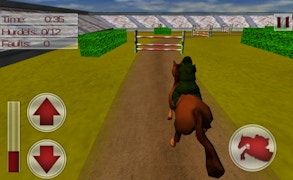 Jumping Horse 3D
For all the adrenaline junkies in the gaming world, I present to you Jumping Horse 3D, a game that represents a sophisticated blend of running games, horse games, and skill games. This is not just another addition in the realm of animal games but rather a unique and riveting experience that will keep you on the edge of your seat.
The game concept is simple yet enthralling. It revolves around the audacious act of horse riding and dodging an array of obstacles to emerge as the winner. However, don't let this simplicity fool you as Jumping Horse 3D can prove to be deceivingly challenging. Each hurdle you encounter adds to the captivating storyline making this game an addictively entertaining ride.
What sets Jumping Horse 3D apart from typical running games is not only its immersive 3D graphics but also its dynamic control system. The controls allow you to jump with a simple tap on the Space key while using Up and Down arrow keys to manage your speed effectively. This level of control places the fate of your horse entirely in your hands adding a layer of intriguing complexity to this fun-filled arcade game.
However, beware; every hurdle hit will cost you the game, keeping your pulse racing till the very end! So if you fancy an amalgamation of exciting horse games, challenging skill games, and thrilling animal games, then Jumping Horse 3D might just be your next gaming obsession.
In conclusion, Jumping Horse 3D takes you on a thrilling ride packed with filled with challenges, excitement and adrenaline rush like no other game in its genre. Combining elements from different gaming styles while delivering top-notch graphics and engaging gameplay mechanics ensures that this title will resonate with gamers of all tastes.
What are the best online games?