Jump Box Hero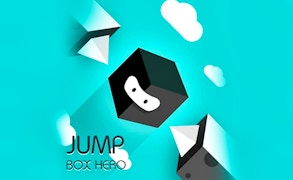 Jump Box Hero
Description
Are you ready to jump your way to victory? Jump Box Hero is a skill-based arcade game with vibrant graphics. The player takes control of a vivid cube and the name of the game is vertical navigation. Watch as the colorful world moves beneath you, reaching ever-greater heights is your ultimate goal. Every leap brings you closer to a new high score!
How to Play
In Jump Box Hero, the controls are straightforward. Tap or click to jump, timing it just right to successfully climb on top of the next platform. As you progress, you'll find that the platforms move at different speeds and patterns – adding an extra layer of challenge. The game continues until you miss a jump.
Tips and Tricks
Consistency is key in Jump Box Hero. Aim for clean, focused jumps rather than trying to rush through platforms. Keep an eye out for changes in platform movement, especially speed, as these changes can drastically affect your jumping rhythm.
Features
Vibrant, eye-catching graphics that make gameplay visually stimulating.
Addictive gameplay that will keep you coming back for "just one more try".
A high score system that fosters friendly competition between players.
A simple control scheme that makes it easy for players of all ages to enjoy.
What are the best online games?