Judy's Throat Doctor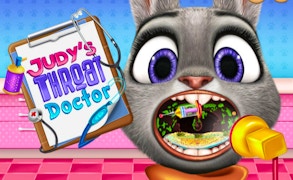 Judy's Throat Doctor
Welcome to our vibrant and enchanting review of the kid-friendly game, Judy's Throat Doctor. This game falls within the genre of animal games, games for girls, and operation games. We thoughtfully review thousands of games every year, but this one caught our attention in a unique way.
Judy's Throat Doctor is a fascinating blend of education and entertainment, striking a balance that is rare to find in today's market. The gameplay revolves around treating our adorable character Judy suffering from throat ailments, which introduces kids to simple medical procedures in an engaging manner.
A special aspect about Judy's Throat Doctor is its ability to make complex topics like healthcare simple for children. It stands out amongst similar animal games, not only because of its unique content but also due to its interactive interface and stunning graphics.
As a part of the popular category of games for girls, Judy's Throat Doctor encourages young girls towards empathetic and caring roles, while teaching them about different types of throat conditions. The game exhales an aura of positive reinforcement that even parents will approve.
The operation feature distinguishes Judy's Throat Doctor from many other games. Within the bounds of the entertaining plot, kids are introduced to various tools used in real-life operations. This game essentially falls under the bracket of operation games, offering children a glimpse into the world medicine through play.
In a nutshell, Judy's Throat Doctor effortlessly combines education with fun, making it a top-choice in the world of animal games, games for girls, and operation games. It truly brings learning to life!
What are the best online games?