Judy Ear Doctor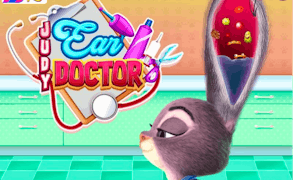 Judy Ear Doctor
Judy Ear Doctor is a unique and engaging game for girls that combines fun, learning, and compassion in a sparkling package. Specially designed for young curious minds, it presents an excellent blend of animal games and operation games.
The game beautifully narrates the story of Judy, an adorable character, who is suffering from a severe ear infection. Judy's friend Nick feels extremely bad on seeing her sufferings. The scenario depicted in the game instantly stirs up empathy among players, stimulating their desire to help Judy.
The player's task is to provide immediate treatment to Judy's ear infection. The game cleverly introduces children to basic medical procedures in an unthreatening and entertaining way. It not only enhances their problem-solving skills but also develops their emotional intelligence as they empathize with Judy's condition.
The graphics are bright, colorful, and appealing, perfectly calibrated to captivate the young audience. The controls are simple and intuitive, making it easy even for those who are new to gaming.
Judy Ear Doctor delivers a user-friendly experience that brings learning and play together in a seamless blend. But more importantly, it teaches children about kindness and caring through its captivating storyline. It is more than just a game; It's an effective platform where children get to understand real-life situations while having fun.
To sum up, Judy Ear Doctor is a must-try for any parent looking at productive gaming options for their children. By offering an intriguing mix of immersive gameplay and educational content, it sets a new standard in the realm of games for girls, animal games, and operation games.
What are the best online games?