Join Pusher 3D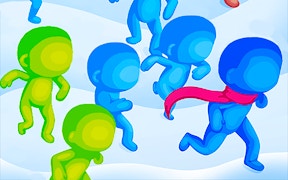 Join Pusher 3D
Dive into the captivating world of Join Pusher 3D, a pulsating blend of fun games and running games that will keep you on your toes. Every moment bristles with electrifying energy as you dart, dash, and recruit your pushers, draping your gaming experience in an enchanting mix of strategic fun and exhilarating rush.
Join Pusher 3D, one of the most engaging number games, is built on the principle of 'the more, the merrier.' You need to recruit as many pushers as possible while sprinting through its vibrant landscapes. But beware, this game isn't just a test of speed; it's a test of strategy too. You need to be nimble not just with your fingers, but also with your brain. Just like a grandmaster planning moves ahead in chess, you too need to plan your course shifts meticulously.
The game urges you to save your pushers. It artfully combines classic chessboard strategies with snappy arcade speed, offering a rich cocktail of brain-racking fun and nerve-wracking rush. Remember - each pusher matters in this tantalizing world of numbers.
In this riveting running game, every second counts, and every move matters. A slight slip could be fatal, but a smart shift could reap rewards. It's all about being quick on your feet - both virtually and mentally! It isn't just about how fast you run; it's also about how wisely you conserve your pushers.
In conclusion, Join Pusher 3D is one of those fun games that will ensnare both number enthusiasts and running game lovers alike with its intriguing amalgamation of number crunching strategy and adrenaline-pumping arcade action.
What are the best online games?