Jigsaw Puzzles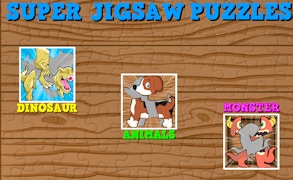 Jigsaw Puzzles
Description
Immerse yourself in Jigsaw Puzzles, a fun and engaging game that is perfect for the entire family. Unleash your creativity and puzzle-solving skills as you navigate through three captivating categories: Dinosaurs, Animals, and Monsters. Each category offers a unique challenge, inviting you to piece together various characters. It's not just about fun; it's an intellectual exercise that sharpens your brain.
How to play
The aim of this game is to assemble a complete image by fitting each puzzle piece into its correct position. You simply drag and drop the pieces onto the designated frame on your screen. The game progresses as you successfully complete one puzzle after another in all three categories: Dinosaurs, Animals, and Monsters.
Tips and Tricks
To excel in Jigsaw Puzzles, consider starting from the edges of the puzzle before moving towards the center. Also, carefully study the images and color patterns on each piece; they provide important clues on where each piece fits. Stay patient! Some puzzles may take more time to solve than others.
Features
Diverse Puzzle Categories: Choose from three fascinating categories - Dinosaurs, Animals, and Monsters.
Mind-Stimulating: Enhance your cognitive skills such as problem-solving, memory, and concentration.
User-Friendly Interface: Easy drag-and-drop controls make gameplay seamless and enjoyable.
Family-Friendly: Suitable for players of all ages with puzzles varying in complexity.
What are the best online games?