Jigsaw Puzzle Horses Edition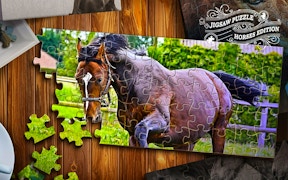 Jigsaw Puzzle Horses Edition
Looking for some brain games to ignite your child's jigsaw conquest while they learn and play? Look no further than the "Jigsaw Puzzle Horses Edition." As a fusion of kids games and puzzle games, this horse-themed jigsaw puzzle surpasses all other animal games in terms of fun, challenge, and learning prospects.
The game presents itself as a stable full of equine wonders, inviting you to unlock and discover 49 striking puzzles. Each puzzle is a veritable kaleidoscope of either a towering stallion or an adorable pony, marking its status amongst the best horse games. Whether your child is just starting to get the hang of puzzles or if you're an adult aiming to challenge your cognitive skills, "Jigsaw Puzzle Horses Edition" offers varying degrees of difficulty that cater to both ends of the spectrum.
This game is all about bringing hours of fun to your entire family. It's no ordinary brain game - it's a galloping journey across pastures and mountains, through the eyes of our beloved four-legged friends. It has swiftly climbed up the ladder in the world of Games for Kids, providing both entertainment and education.
"Jigsaw Puzzle Horses Edition" does more than just entertain - it inspires! It stirs the curiosity in us about these magnificent creatures while subtly honing our puzzle-solving abilities. As far as horse games go, this one secures a resounding neigh-s (yes), without losing its appeal even after multiple plays. Its range from easy-to-solve puzzles for kids to tougher challenges for adults makes it a must-have in your collection.
Giddy-up gamers, it's time to saddle up for some mind-triggering fun with "Jigsaw Puzzle Horses Edition". Dive into this immersive world where every piece you fit brings you closer to completing your very own equine masterpiece.
What are the best online games?